Film Study: Chase Claypool's Fit With Steelers
When the Steelers passed on Denzel Mims in favor of Chase Claypool in the second round of the 2020 NFL Draft, a lot of people questioned just why the Steelers would do that. Just based on true talent from film, Claypool really seemed like a lesser talent that Mims. Both of their skill sets match up well, but Mims has better functional athleticism, body control, and separates easier than Claypool does. To put it in simple terms, Mims was more polished coming out than Claypool and still had some freaky measurables himself.
However, there was one thing that Mims lacked that may have allured the Steelers to Claypool. At Baylor, Mims was locked in as an X-receiver, but Claypool has true versatility to play the X-receiver, Z-receiver, and even more importantly, he can be used as a big slot. That means the Steelers have the option to scheme Claypool open against nickel defenders. However, that does not have to be what Claypool is in the NFL. In fact, the Steelers have stated as much that they are going to play him on the boundary.
The Red Zone Element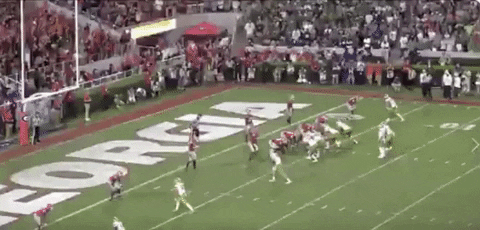 The first and most obvious benefit of putting Claypool on the boundary is that he is a big, massive target for Ben Roethlisberger to throw to down there. In addition to the Eric Ebron, Claypool will help the Steelers improve upon the worst red-zone offense in the NFL in 2019. Here against Georgia, Claypool uses his size and physicality to open up a window to the pylon, drag his feet down good body control, and get a touchdown out of it. Expect similar things like this to enter the Steelers offense as well. Some back shoulder fades could be dialed up since Claypool opens up those windows so well with his physicality, which is arguably his best trait.
What does Claypool do to the Steelers offensive formation?
This one is a little interesting to look at because Claypool felt like he was a guy the Steelers took because he has the size and speed to stretch defenses on the boundary. More importantly, it represents a helpful addition for star wide receiver JuJu Smith-Schuster, who even last season was playing far too much on the boundary instead of in the slot, which is his best and natural position.
This is what a base three wide receiver set could look like for the Steelers in 2020. The key to the Claypool pick was not just because of his skill set, but it was in order to help Smith-Schuster return to the spot that saw him put up monster numbers in his sophomore season. With the sure-handed target of Smith-Schuster returning over the middle of the field, things are going to be a lot harder for defenses, as long as Claypool poses a threat.
That is the thing and caveat here. In order for this all to work, Claypool has to be a legitimate threat to win vertically against defenses. Otherwise, Smith-Schuster will be doubled every game and his move to the slot will mean next to nothing since Claypool will not see the field at all.
Here is why Claypool is a threat to win vertically. On this play, he dismantles the press coverage with a vicious swipe and rip move that gets the cornerback reeling and almost off his feet. With the safety in conflict due to the skinny post working over the middle of the field, Claypool is open up the seam, elevates to high point this ball with his massive catch radius, and gets a touchdown. This is a play that the Steelers could use in their four wide receiver sets this year.
For a defense to make sure guys like Diontae Johnson and Claypool do not win over the top, they have to go into Cover 2 shells to defend the boundary. What that then does is while they are attentive to the vertical threats, the middle of the field is opened up with room to work with and single-coverage opportunities. That is precisely what the Steelers are trying to do here with the addition of Claypool. One on one opportunities for Smith-Schuster and Ebron over the middle of the field spells great news for the Steelers. Everything here is a match game and in order for defenses to defend over the top, they are going to have to expose the middle of the field or get burnt.
Claypool can help in the running game too
The Steelers are known for liking their tight ends to be blocking menaces. Claypool is just another one of those guys that gets after it when in the blocking part of his game. That can help in the run game, but this is not how he can help. it stems back to those cover 2 looks.
This is a basic cover 2 scheme. It puts the defense in a compromising position against the run since the linebackers are often asked to drop back into the deep middle in traditional Tampa 2 coverage or they are asked to buzz out to the flats. As such, it very often lightens the box and allows for more room to run the ball. The Steelers when they added Claypool were adding to the running game as well since this will spread out the defense and allow for lighter boxes. With the addition of possible motion into the equation, the Steelers have just booked the run game with an outside receiving threat. This is just one example of how a team's passing game can help the running game, too.
Claypool's Skill Set
As an actual individual player, what does Claypool bring? This is a guy, who as shown above, is a master of physicality and the contested catch. He struggles to separate downfield and has some wonky reps against press coverage that are concerning. In addition, there are issues with separation. He certainly does separate with his physicality and strength, but attacking leverage with consistency is something he needs to work on. The quickness in and out of breaks is another thing that needs to be worked on, however, he has shown flashes of doing that at Notre Dame.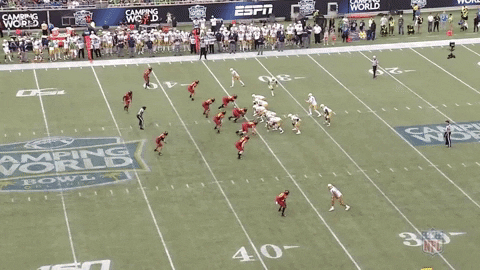 One of the best examples of how he can separate is here against Iowa State. He attacks the cornerback's outside leverage really nicely here. Claypool accelerates with good pad level to sell the vertical, gets on the cornerback's toes, gives an outside pressure step and a head fake, and then cuts back inside of the inside arch of his left foot. While doing that, he dismantles the cornerback's attempt to get hands-on him as he swats that done. Even more so, as he accelerates towards the post, he gives a violent head fake and carries that violence back through his hips to run a smooth route. After that, he simply adjusts to this underthrown ball, tucks it into his frame, and has the catch. The traits are there for him to improve as a route runner, which just has to occur more frequently.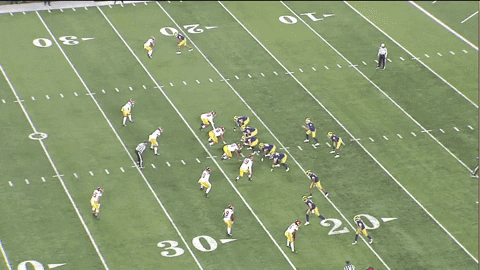 Of course, Claypool's bread and butter are contested catches. He shows that off here as well against USC. Something he does when faced with press coverage is that he tries to bully his way through it. That issue shows itself up a bit here as he is re-routed to the outside, but he has the play strength to fight through the attempts, even by lengthier cornerbacks who may pack a punch. As such, with a window of separation, Claypool rises up to high point this ball and tuck it into his frame. This is why there has to be a safety over the top of Claypool, simply because he can make these catches even when well covered.
And that is what makes him so valuable to the Steelers.