In the Film Room With Najee Harris: Adjusting to the NFL
PITTSBURGH — Najee Harris' first NFL game did not go as swimmingly as he had hoped. Very quickly, the rookie learned that the NFL is a different game than the college game.
The speed seemed a little bit too fast for him at times. While he never looked truly lost, Harris did not have the processing on every level to live at the speed just yet. He did not look like a true-born natural. No play demonstrates that better than a well-blocked counter play where Harris could not make the one-on-one defender in Taron Johnson miss.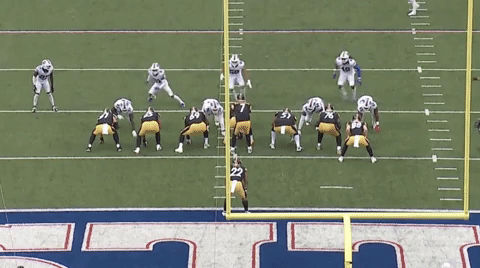 There is a clear hole here and maybe the second-best run blocked play by as an entire unit by the offensive line. If Harris can make Johnson miss or even fall forward, this is a quality gain for at least five yards. However, he is stunned backward, and instead, Johnson makes a great stick and Harris gets minimal yardage. Harris broke down what he was seeing on this play Sunday, and what he can do in the future to remedy it.
"They always had a down safety, so that was a free hat," Harris said. "I didn't know where the free hat was, I just knew there was going to be a free hat. They had more numbers than us in the run game with another guy in the box. I saw him at the last minute. He just made a good tackle. Really, it was bad on my part, because that was 1 on 1 and I should make that guy miss. … It was blocked perfectly."
Harris did everything right, but identifying the free hat after the motion is something that he will work on and learn with due time. While this should have been a solid play, Harris' inexperience stalled it. Rookies will have growing pains, and it is something that Harris is clearly willing to learn from.