Scouting Report: Giants Playmakers Will Test Steelers Defense
The Steelers are heading to New Jersey on Monday to face the New York Giants for their first game of the 2020 season. The Giants have an entirely new coaching staff, and are a young team, but boast some talented players that can give the Steelers trouble. How does their team look and matchup against the Steelers' very talented team?
The Giants Schemes
This is a bit of a question mark as it stands since there is no definite film out there for how Joe Judge will mix his own schematic ideas with that of coordinators Jason Garrett and Patrick Graham, but there are some basic ideas that can be developed from the schemes.
For Garrett, it is a variation of the Air Coryell offense. In other words, that means this first and foremost a vertical offense that wants to push the ball down the field. The thing that makes Garrett's offense scheme so dangerous is how he uses his tight ends. The tight ends in the Garrett scheme are seam busters, but they have ad-libbing schematic freedom. He does this with his signature play aptly named Y-Option.
Jason Witten was great running this while in Dallas. The tight end reads the coverage and decides on one of four routes — a flag route, dig route, double move up and go, and a curl route. It gives the schematic and route flexibility with great spacing across the board. Garrett likes to run a lot of levels concepts to really give his quarterbacks natural progressions at all levels of the field.
However, still at the heart of his offense, it is one that wants to push the ball. Sometimes, that will require Garrett to run some rhythm-based routes. The slant route is an effective staple of the Garrett scheme. As of recent, RPOs have been used heavily in the scheme. Garrett likes to really stress linebackers and put them in binds against a talented running back in the run game or pushing the ball vertically. Linebackers' true skills are always tested against a Garrett-based scheme.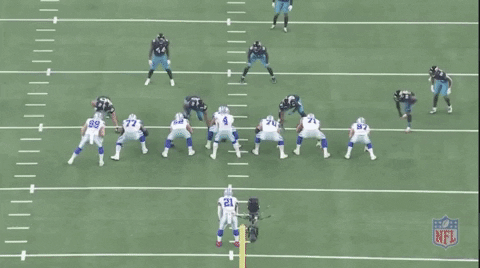 The running scheme has a lot of guard interaction. So Garrett likes what is called "G Action". Pulling guards that will lead Saquon Barkley are very likely to be seen on Monday. Outside of that, Garrett really loves zone runs. It will test the Steelers linebackers ability to sift through the trash and sift against those outside zone runs that will look to take advantage of Barkley's elite athleticism.
As for the defense, this is a big question mark. Graham was the defensive coordinator with Brian Flores last season, but how much of that scheme was actually Graham and not Flores is remained to be seen. However, with some Patriots blood in him, it is without a doubt that there will be a lot of flexible fronts. Even and odd fronts as it pertains to the look the Giants are seeing will be key for them to stop the running game and get pressure on Ben Roethlisberger.
What that Patriots scheme likes to do is be flexible up front to help the back end with their assortment of responsibilities. The Patriots run some Nick Saban ideas, including lots of Cover 3 shells and quarters. The point being is that Graham, if he is like other Belichick disciples, will have a flexible scheme that executes whatever he wants based on the matchup. Cornerbacks may be playing safeties and so forth. It is a multiples look defense that is meant to play with the quarterback's eyes, while the front is meant to close in on the running game by slanting more than any other defense In the NFL.
Key Players to Watch
RB Saquon Barkley
Barkley, the former Penn State running back, is going to be enemy number one on Monday. Mike Tomlin noted that as such earlier in the week when talking of the threat that Barkley possesses. One of the best running backs in the NFL, Barkley is built like a brick house. He has incredible contact balance and body control for any football player of his size. Add in the fact that he is an absurd athlete by any given scale and there is a threat here. Barkley is a solid pass protector and a huge threat in the passing game with soft hands and surprisingly good route running.  He will threaten the linebackers to key in on him, and it may cause the Steelers to shift their schematic decisions.
QB Daniel Jones
The young Duke product is coming off a promising rookie season. His mental reads were sporadic, however, and it leads to some questions of if he will be able to decipher this Steelers defense. The Steelers were great at messing with the quarterback's eyes last season by disguising their coverages. Jones threw the fifth most interceptable passes in the NFL with 29 last season because of mental lapses. He throws some really pretty balls and is coming along with his development, but his decision making, especially under pressure, could lead to some disastrous consequences for the Giants.
CB James Bradberry
Bradberry was the big free agent signing of the offseason for the Giants. It made sense given their holes at cornerback and now that last year's first round pick in DeAndre Baker has been released, Bradberry will offer some much needed comfort for the Giants secondary. It is yet to be known if Bradberry will shadow JuJu Smith-Schuster or just play one side of the field, but his last year in Carolina showcased a physical player with great feet and discipline. If the Steelers want to beat Bradberry, it will not be easy.
DL Dexter Lawrence
Coming off a rookie season where he flashed his athleticism and traits, Lawrence is going to be a guy to watch as an interior penetrator for the Giants. He has the juice to run through guys, even as a nose tackle, but the with the front Graham may employ, it is possible Lawrence may see some matchups against Stefen Wisniewski with David DeCastro likely out. It depends on the jump Lawrence makes from year one to year two, but he is a fiery player that will be a problem for the Steelers with his tools.
Matchups to Watch
Corey Ballentine vs Steelers receivers
The Giants are inevitably going to have some questions at cornerback. Logan Ryan was signed, but it is unclear how he will be used on this defense. Whether that is as a slot corner, safety, or both. It makes sense that he would be signed by the Giants given his experience with the Patriots system. However, Ballentine will be the starter across from Bradberry. A second-year player out of Washburn, Ballentine is a lengthy cornerback with good ball skills and great physical tools that was thrown into the fire last year. He did surrender four touchdowns and 351 yards on 35 targets. This is a mismatch the Steelers can exploit, no question.
Andrew Thomas and Cameron Fleming vs Bud Dupree and T.J. Watt
This is the biggest question mark for the Giants on Monday. They have a problem at tackle naturally, even if Thomas pans out, but in Thomas' first game, he will be facing a very talented pass rusher in Dupree. However, Fleming is the real one at risk here. Facing a Defensive Player of the Year candidate in Watt is going to be a very dangerous matchup for him. This could get bad quickly. Jones has been prone to fumbles, with 18 fumbles last year. If Watt and Dupree are getting consistent pressure there is a good chance Jones may cough up the ball to catastrophic consequences.