In the Film Room with Steelers QB Dwayne Haskins
PHILADELPHIA — After he engineered an impressive comeback victory by the Steelers over the Eagles, calls for Dwayne Haskins to get more opportunity against better competition are continuing to ring out. Haskins was 16 of 22 and had three touchdown drives led to his name. Yes, those are surface-level stats, and yes, he was playing against second-stringers and even third-stringers. However, it is undeniable that there were good things that Haskins put on tape Thursday night. That is the bottom line, and it matters.
There were three plays of Haskins' that really stood out in a bigger manner than all the other ones. His connection up the seam to Cody White, the touchdown to Anthony Johnson, and then the deep throw to the boundary to Rico Bussey. Those plays showed more processing and in-game awareness than just about any other play that Haskins put out there on tape this year.
The first play is the throw up the seam to White. The coverage that the Eagles are playing here looks like a weird convoluted version of a two-high pre-snap look. It looked that way up in the press box, too. Whether that is Cover 2 man, Quarter-Quarter-Half, or straight-up Quarters is a great question. However, without All-22, it is tough to truly say what this play was. It could just be Cover 2 with the safeties playing extremely deep. If this is true Cover 2, this is a bazooka of a throw by Haskins into a tight window. Whatever the variant of a two-high shell it actually was, Haskins broke down what he was reading on this play.
"That was a Cover 2 look, and I wasn't necessarily supposed to throw there," Haskins said. "I kinda just saw the opening in the zone. And a safety was twenty yards deep. They squeezed the Y on the stick route. You know I took a hitch, and if I would've hitched up more I would've been late. You know, I took a good step and saw how open Cody was, and we kinda had a play like that in practice on Wednesday, so it was cool to see it come to life Wednesday in a game."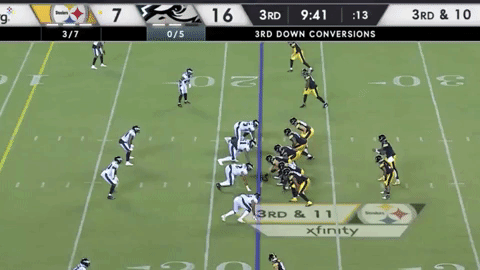 This touchdown is an impressive play by Haskins no matter how it is sliced. First, he has to process the offsides penalty even happening. Once that happens, the play becomes a jailbreak play. He feels the pressure, has to come off his initial read, and keep his eyes downfield to scan what is going on. Throwing across his body and making a nice throw a wide-open Johnson is, at the very least, a great example of the mental processes that Mike Tomlin was impressed with from Haskins. Haskins talked about his processing on this play.
"Yeah, so they jumped offsides on our double cadence," Haskins said. "You know, they ran a lot of Cover 2, so we were trying to get Pat down the middle. But Pat was covered, so you know I went onto my next read. AJ (Anthony Johnson) found a great spot in the back of the end zone. So, I just wanted to give him a good chance on a good ball. You know, it was a free play and Coach Tomlin talks about hunting and big plays. And that was an opportunity right there."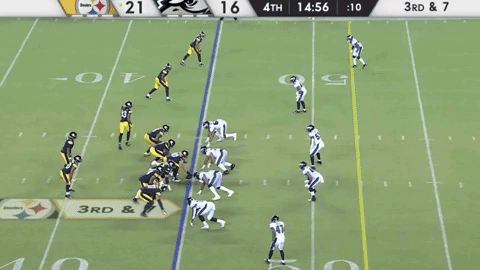 As far as the most impressive of all the plays, in terms of pure arm strength, this is probably the most impressive. If Haskins actually hits Bussey in stride, there is a good chance that Bussey gets a hospital ball. So, peaking it towards his back-shoulder instead at least helps protect Bussey on this Cover 2 holeshot. The Steelers were clearly trying to either hit Bussey on this one or most likely, hit Isaiah McKoy up the seam against Cover 2. Either way, they matched McKoy, Haskins processed that and was able to fire in a bullet to Bussey.
"So, it was a three-by-one set with the tight end attached tight," Haskins said. "We had the number three on the Mike, so then the nickel squeezed on AJ (Anthony Johnson) pretty quickly. So, I saw the corner was sitting and there was a safety over the top of Isaiah. I found Rico down the field on a Cover 2 holeshot. It was funny because he should've caught the touchdown in the red zone and I got on him about making a play, so he made a play for me."