Steelers RB Benny Snell Hears Doubters Once Again
PITTSBURGH — Once again, Steelers running back Benny Snell can hear the doubters.
During the second week of Steelers OTAs at UPMC Rooney Sports Complex, I wanted to talk to Snell about his upcoming year. The Steelers' running back depth is one of the more intriguing storylines flying under the radar. With heavy usage for starter Najee Harris in 2021, but no additions made to the position, Snell is the crux of that, and the likely backup to Harris heading into Week 1.
Snell didn't want to talk. The likable and approachable Snell is usually a willing interviewee. But he had seen tweets that I had sent out during training camp of 2021 about him possibly being the odd man out of the Steelers backfield. The first time with reporters back in the locker room, Snell then asked to interview me, asking why I thought he wasn't good enough to cut it. It led to me telling Snell what I thought of his game and abilities to his face. It was an awkward, tense moment that started out contentious but ended differently, with Snell eventually agreeing to an interview the next day.
Snell is used to dealing with doubters. You can see it in his journey to where he is today.
Let's start from the beginning. Snell was no sought-after recruit coming out of Westerville, Ohio, which is just 20 minutes outside of Columbus. A hotbed of talent with hometown Ohio State just a short drive away, Snell never got that offer. Snell's opportunities coming out of high school ended up amounting to Boston College, Bowling Green, Buffalo, Cincinnati, Iowa, Miami Ohio, Toledo, and finally, Kentucky. In other words, he was woefully under-recruited out of an area where he should have been recognized right away.
Snell walked away with only three Power 5 offers. On Rivals, he was rated as only a 5.5, the lowest ranking possible for a three-star recruit. By the 247Sports composite, he was the 56th running back in the class of 2016. This was a player that was overlooked by so many teams. He never got the offer from Louisville, Ohio State, Michigan State, Indiana, and other schools that generally recruit the Columbus area hard. Even in his senior season, Snell racked up 1,826 yards on the ground and 29 touchdowns, and yet, there was mostly silence.
So, Snell went to work. He came in his freshman season and took the SEC by storm. He racked up 1,091 rushing yards and 13 touchdowns en route to getting Freshman All-American honors. He got his opportunity to really light the world on fire against a ranked Georgia team, and Snell put up 114 yards rushing on 21 carries and two touchdowns. To say the least, the SEC was put on notice.
The rest of the way, Snell became lore in the Kentucky fandom. He racked up three straight 1,000-yard seasons. He capped it off with a great junior campaign where he put up 1,449 rushing yards and 16 touchdowns. Snell finished his Kentucky career with 3873 rushing yards, 48 rushing touchdowns, 737 carries, two first-team All-SEC selections, a second-team All-American selection, a Freshman All-American selection, and Kentucky records in rushing yards, touchdowns, and 100-yard games.
But Snell still had doubters in the 2019 NFL Draft process. In a game predicated on speed and explosiveness, a 4.66 40-yard dash, 29 1/2 inch vertical jump, and a 9-foot-9-inch broad jump did not blow people's socks off. Snell was the 10th running back off the board to the Steelers in the fourth round.
His lack of explosiveness made it hard to see how he would fare in short areas where that burst was needed. The lack of home-run hitting speed was concerning in an NFL that is made in the era of explosive plays. Then, his quickness was not all that great either. The physical traits were just not very good, and that, unfortunately, can hold a running back back in the NFL.
Still, Snell was drafted to help be the security blanket behind James Conner after his great 2018 season. Le'Veon Bell was off to New York. Snell was going to be the backup. At the NFL level, his vision was inconsistent. In pass protection, he was willing but struggled to identify the most dangerous blitzer. Those are issues for many young NFL backs, but it was a lot to see Snell overcoming.
To his credit, Snell improved a lot. From the time he entered the league to now, Snell's vision has become great. It might be his best trait. He has turned into a solid pass protector. Snell not only identifies the most dangerous blitzer, but he can also stonewall them. His hard running style has never gone away. Snell works his behind off during special teams drills and is a plus there. When he has been asked to fill in, Snell has been serviceable.
In his rookie year, Snell put up over 400 yards on the ground. In 2020, he put up 368 yards on the ground, including a one-hundred-yard performance against the Giants in the first week of the season. This past year, it was the Najee Harris show. So, Snell was relegated to mostly special teams duties. Still, he did that role extremely well. Despite Harris' heavy workload, the Steelers did not draft a running back this year, either, invoking a stamp of approval upon Snell's skills as a result. Snell has tried to work as much as possible on what he can bring to the table up to this point.
Last year, not only did Snell make the roster, he came through which a big play when his team needed him most. Harris was injured in the Steelers' must-win regular-season finale in Baltimore, and Snell was called upon. His stat line of 12 rushes for 22 yards is nothing to write home about. But Snell made multiple key blocks in pass protection and had it not been for a penalty, he would have had a stiff arm highlight for the ages. It showcased something that makes Snell stand out: his grit, power, and ability to create yards with those two traits.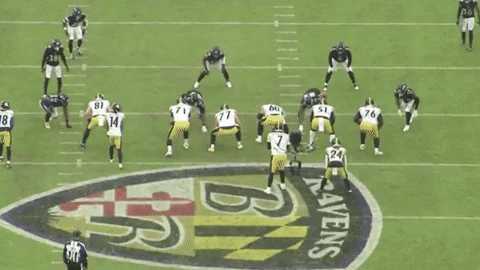 "It was a little checkdown but I was able to show what I could do," Snell said. "I got some YAC, used the sideline, used my stiff arm. Najee is signature for that, and we drill that with the coaches, so I was able to put my hard work into play whenever it was time."
That hard work mentality is something that Snell has carried with him his entire career. Snell has made it a habit of proving to everyone that doubted him wrong. It started back before he was even in college football. I have my doubts about Snell as a starting NFL running back. But it is hard to not be impressed by what he has done thus far in his football career to churn out a successful career. Snell is not stopping himself from improving at this point.
"I really wanted to work on my speed," Snell said. "I wanted to get better on my explosiveness in and out of cuts. I've been honing in on my route running and catching the ball. It's been about a speed mentality. I wanted to get better at the playbook, and know a lot more. I just want to play faster."
Is it possible to teach speed? Maybe. Snell's speed is undoubtedly not a strength, but Snell is trying his best to try and improve upon that. There was noticeable quickness and in and out of his cuts in the first part of the offseason program this year. Whether it is crisping up footwork to the perfect degree and just efficiently reading his line, even more, there are elements of speed that Snell can work upon. Given his improvement from his first season until now, it is possible that could be in the cards.
Even after his running backs coach Eddie Faulkner said that Snell looked "more explosive," Snell is not letting the praise get to him either. For all the noise Snell hears about those who give him flak, he hears the praise as well. It is possible that Snell's even-keeled approach to all of that noise is what allows him to improve. Much like the messages of the doubters, Snell shrugged off Faulkner's praise, and in Year 4, is looking to continue to work on his craft.
"It's love from my coach, but I just put my head down and work," Snell said. "I can't get too caught up in what he say and she say. It's all about myself. I've got something to prove, so I'm putting my head down and getting to work."
Snell still feels like he has something to prove, and Snell will have another opportunity to prove anyone doubting his abilities wrong again this year. There are honest limitations to his game, but Snell has done everything to strengthen what he can do on the field since coming to the Steelers. Given his history of making his doubters look foolish, it may not be a wise endeavor to try and doubt Snell.