How Can Steelers Spark Running Game?
The Pittsburgh Steelers defense has taken major steps over the past few weeks. Now, coming out of at their bye week, they are tied for second place in the AFC North, 2 1/2 games behind the first-place Baltimore Ravens.
It is a stretch to call for the Steelers to make the playoffs given their circumstances, but they have to be thinking that they are still alive sitting at 2-4. The defense is seeing young names such as T.J. Watt, Devin Bush, and Minkah Fitzpatrick step up as leaders of the team, and with that, they should only ascend throughout the year.
However, the offense has obviously left a lot to be desired. The passing game struggles are no surprise, given the amount of shuffling at quarterback. However, this meant that the Steelers needed to rely on a ground attack to protect their inexperienced passers. With an elite offensive line and a Pro Bowler such as James Conner, the group should have been able to help pick up the slack.
However, the Steelers currently rank 28th as a team in rushing yards per game and 27th in yards per carry. James Conner has averaged 3.2 yards per attempt this season, a far cry from his 4.5 yards per attempt through two years. For a team that is not getting Ben Roethlisberger back this season, they will have no chance competing if they cannot get more going on the ground.
Is it the play calling, the lack of a quarterback, the offensive line or James Conner? What can the Steelers attempt to fix to get the run game going?
STACKED BOXES
The first question obviously comes down to the quarterback shift. It is clear that quarterback play has limited JuJu Smith-Schuster, is the lack of respect in the deep ball hurting the chances of Conner. On the contrary, actually. Conner has faced an 8-man box just 16.22% of his rushes this season. That number is down significantly from 27.91% last season. Last season he saw 7.1 defenders in the box on each attempt, while that number is only 7 in the box this year.
STUFFED RUNS
Despite fewer players in the box, the Steelers are not making defenses pay. Power success and stuffed rank can help tell a story of how well the offensive line has played. When a back gets into the open field, it is on them. However, power success measures the number of third and fourth down situations with less than two yards to go a running back converted. Stuffed rank is the number of runs that go for one yard or less. The Steelers ranked fifth in these two categories in 2018. They rank 26th and 30th respectively this year.
EFFICIENCY
This is not a good look for the Steelers offensive line, which has not been able to generate a strong push-up front. However, this can come down to a few issues as well. To start, Conner has not been as quick to hit the holes when they are there. Last season he had a 3.64 efficiency rating, which tracks steps taken per yards gained. A lower number means a north-south runner. This year his rating is up to 4.73.
This means the line has to hold their ground longer. That does not help when they are trying to convert in these short-yardage situations.
On top of that, the team has seen a drop off in second-level yards, and open field runs. That was never a strength of Conner as he ranked 20th, and 19th in those areas respectively. The Steelers rank 29th and 27th this year, though.
Second-level runs go for 5-10 yards while open field runs are 10 yards or more. Conner is not getting into the second level at nearly the same rate. This is hard not to pin on Conner. Last season he had 23.2 yards created per game. That is the number of yards he picked up after making a defender miss. This year that number is down to 12.7. On a per-carry basis, he creating 0.5 fewer yards per carry after first contact.
He averaged 4.6 missed tackles per game last year, which is down to 3.8 this year. Conner has not been efficient in making defenders miss. He has been reliant on what the line gives him, which is less than a year before.
PLAYCALLING
However, the play calling can take a little blame in this area as well. The Steelers have tried to get Conner outside of the tackle box. The spread nature of their running game has helped in keeping less defenders in the box. However, they have not been successful running outside of the tackles this season. Plays like the one below have been seen too often. This is a trifecta of issues. The offensive line looks out of whack pulling to the outside, the play call forces Conner to the weak side of the field and he stutters around which adds to his worse efficiency rating this season.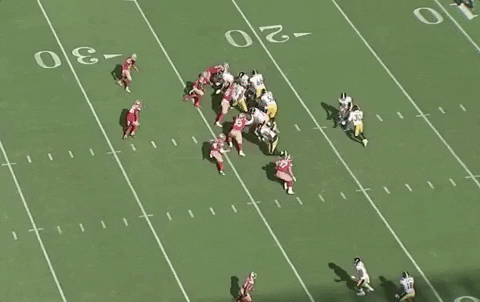 When running off of the right tackle Conner has a 36% success rate. Conner does have a 50% success rate running behind the center, which has been the most efficient method of rushing. The team has spread out their attempts, but may want to run less outside, as Conner has not been decisive, and the line has not been dominant.
However, Conner also has only a 21% success rate when the quarterback is not in shotgun compared to 48% in shotgun.
PASSING GAME VALUE
When the Steelers run with Conner they should spread teams out, and then run him up the middle out of the shotgun. Where the Steelers want to get Conner outside of the tackles is in the passing game.
Conner is on pace for 69 receptions for 616 yards, both would be career highs. He already set his career-high in receiving touchdowns last Monday and has only one incompletion on targets this season. When adding in his receiving value, Conner has averaged over 4.6 yards per touch and has gone over 100 combined yards twice.
The Wildcat has helped him get quick passes, get him to the edges, and help boost his stats. We know that the team cannot back to that look again, though, it is too easy to solve.
However, looking at his receiving value against the Chargers and you can see that they had a lot of success getting him in open space outside of the tackles. All of a sudden, he was looking like the Conner of old.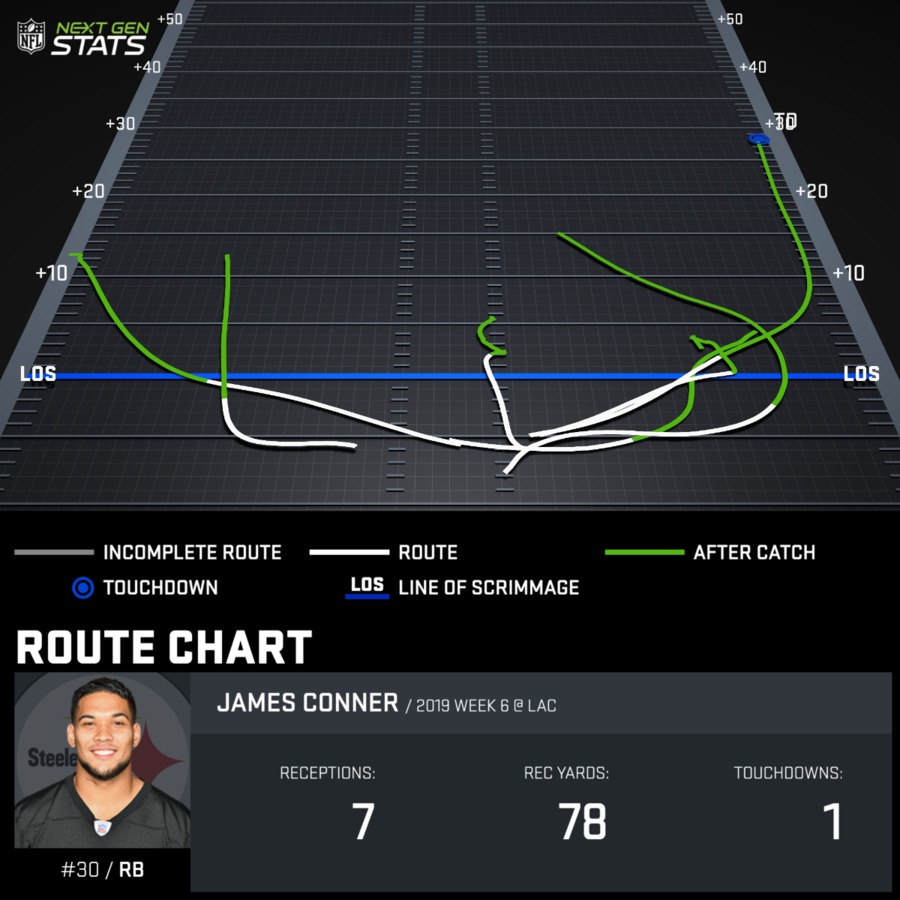 Getting quarterback consistency will help Conner get back into the swing of things immensely. However, there are things that can be touched upon all levels.
Conner will need to work on making multiple defenders miss, and picking up more yards when he gets into open space. He also will need to be more decisive running downhill.
The offensive line can help in this area. However, they need to improve when it comes to running outside of the tackles. Rosevelt Nix is a chess piece who can pull and lead rushing attacks outside the tackles, and Vance McDonald is an underrated athlete as a pulling blocker as well. Getting these two in the mix can help, but the team needs to call more shotgun runs up the middle.
On top of that, getting Conner more work in the receiving game stretches the defense thin, and keeps teams from crowding the box, which will be needed as the team rides a backup quarterback home. Not all is lost for the Steelers rushing attack, but the team needs help in all phases from the play calling, to the line, and Conner.