In the Film Room with Joe Schobert and Cam Heyward: How the Lions Gave Steelers Fits on the Ground
PITTSBURGH — The Steelers run defense was shredded for over 200 yards on the ground by the Detroit Lions Sunday afternoon on a slick Heinz Field. On in all on the day, the Steelers allowed eight rushes over ten yards, including two touchdowns over twenty yards. It was not the performance anyone expected, especially with the Lions unable to register anything through the air.
As fate would have it, the Lions released their primary blocking tight end in Darren Fells after he requested it last week. However, they had a replacement for him. That replacement was with a massive tackle eligible package that would send the Steelers' run fits and communication into haywire.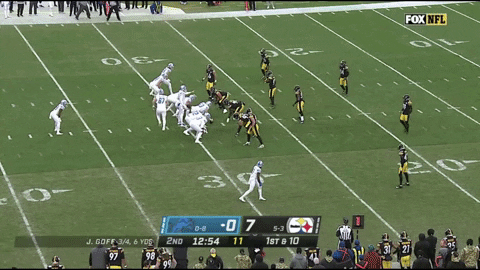 The Lions used motion and shifts to send the Steelers' run fits into chaos. It forced them to communicate and they failed to do so. Often, it felt that players did not know where their run fits were. Joe Schobert, for example, on this play, takes the outside contain expecting a fill from the backside. However, there is no one there. That can mean a few things. Bush is playing this like he is to the strong side.
First, the defensive line just does a bad job of getting off blocks and allowing Schobert to get reached. However, it is as if he is spilling it to someone on the inside. Unless Terrell Edmunds was supposed to come down hard and fill this, it looks more and more like Schobert was supposed to fit this and could not get off his block. Devin Bush also does a horrific job of playing to his leverage side and helping out Schobert on his fit. Both of the linebackers are at serious fault here. It seems that they failed to know where their leverage was, and the shift did its job. The Lions won the leverage to the second level and the linebackers were out of sync with their run fits. It is exactly that issue that Schobert and Cam Heyward saw.
"They were shifting and motioning to create a change of strength a lot," Schobert said. "There's a lot of communication that goes on depending on what call we're in. Those running backs were good at hitting some of those seams. After that first drive in the third quarter and after we had talked about it, we were able to really limit what they were able to do."
For Heyward, getting off blocks was an issue all day. However, the communication of the shifts to the second level and down to the front four was something that he felt was also a massive issue. It is something he feels they have to work upon.
"Early on, we would set the front and I'd be to the tight end side," Heyward said. "A couple of times, they would move the two and we didn't do a good job of resetting the call and putting me to the frontside. I thought it the second half, I thought we did a good job of cleaning that up."